In this updated ExpressVPN review I wanted to put the service through extensive testing in order to answer the following questions:
Is ExpressVPN really the fastest?
Can it unblock Netflix?
How well do the features and leak-protection settings work?
Is it really worth the price?
This ExpressVPN review is based on verified results to check for speeds, reliability, leaks, and whether all the features functioned as advertised. All of the test results are backed up with screenshots below for verification.
ExpressVPN Overview (Pros and Cons)
Numerous speed tests found ExpressVPN to offer consistently fast speeds throughout their server network – more so than any other VPN I have used and tested. (See the in-depth speed test results section below.)
For security, ExpressVPN is also among the best in the industry. Their apps implement a Network Lock kill switch, which will block all traffic in the event of a VPN connection interruption, thereby keeping your data safe and secure. They have also updated their apps in the past year to protect users against rare leak scenarios when switching between network interfaces, which most VPNs do not offer.
ExpressVPN's apps were tested on Windows, Mac OS, Android, and iOS – and they worked flawlessly. In addition to being secure and reliable, the apps are also user-friendly and well designed.
What are ExpressVPN's drawbacks?
The main drawback with ExpressVPN is the price.
It remains a premium VPN service with an above-average price tag. But if you value a performance and security, then it's probably worth the money.
ExpressVPN is also somewhat simple, and doesn't offer as many unique features as NordVPN, for example. However, as we found in back-to-back testing for the NordVPN vs ExpressVPNcomparison, ExpressVPN has the best speeds and the most secure applications.
Based on the latest test results, ExpressVPN is currently the #1 VPN recommendation.

Jurisdiction
British Virgin Islands

Logs
No logs

Price
$6.67

Refund
30 days
+ Pros
User-friendly and reliable apps
Exceptional speeds throughout the server network
30 day money-back guarantee
Split tunneling feature (Mac OS, Windows, and routers)
Works with Netflix and other streaming services
24/7 live chat support
ExpressVPN speed test
Let's jump right into what most people want to know: how fast is ExpressVPN?
To measure ExpressVPN's speeds I ran numerous tests with ExpressVPN servers around the world. My physical location for all testing was Germany and my baseline internet download speed was 100 Mbps. All tests were conducted with ExpressVPN's apps using 256-bit OpenVPN.
Nearby ExpressVPN servers (Europe)
The first round of speed testing was with ExpressVPN servers in Europe. With nearby servers in Europe I could consistently get around 90 to 95 Mbps, which nearly maxed out my baseline speed.
For the first test, I went with a nearby server in Switzerland.
Download speed: 92 Mbps

Here is a test from a server in France.
Download speed: 91 Mbps

And another speed test in the Netherlands.
Download speed: 92 Mbps

And finally a speed test with a server in Milan, Italy, with the best result of them all.
Download speed: 94 Mbps

As you can see with nearby servers, ExpressVPN consistently performed at the upper limit of my internet provider (baseline) speed.
This is a consistently fast VPN, especially when using nearby servers.
Long-distance speed tests
I also ran some long-distance speed tests with servers in the United States (from my location in Europe). Again, the speeds were excellent with all servers tested.
Here I am testing an ExpressVPN server in New York.
Download speed: 77 Mbps

Here is another test with a server in Washington D.C.
Download speed: 78 Mbps

Even with long-distance servers, my speeds were always excellent.
ExpressVPN is one of the fastest VPNs I have tested. It's easy to see why it has such a great reputation for performance. If you want a fast VPN that gives you the fastest speeds throughout the entire server network, ExpressVPN is for you.
You can also see on the ExpressVPN website that performance is one of their main focus areas.
ExpressVPN company and policies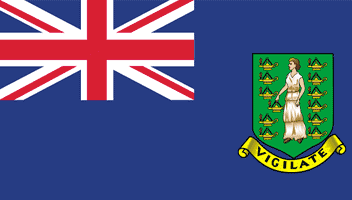 ExpressVPN is based in the British Virgin Islands (BVI). Despite being a British Overseas Territory, the British Virgin Islands are an independent, self-governing entity with full control over their own laws and legal system. Unlike the UK, the BVI have no mandatory data retention laws. Similar to Switzerland, the British Virgin Islands are well-known for staunch privacy protection and financial secrecy.
Considering all these factors, ExpressVPN seems to be located in a good privacy jurisdiction, despite the tertiary connection to the United Kingdom.
In terms of company policies, ExpressVPN also does quite well. ExpressVPN clarifies their core beliefs on their website regarding user privacy:
ExpressVPN is a premium VPN provider focused on user privacy and anonymity. Our network is built around specifically NOT knowing the internet activities of our users. As privacy is a core part of our service offering, ExpressVPN is in the business of protecting our users' private internet data.
In the Privacy Policy they further explain:
ExpressVPN is committed to protecting your privacy. We want you to understand what information we collect, what we don't collect, and how we collect, use, and store information. We do not collect logs of your activity, including no logging of browsing history, traffic destination, data content, or DNS queries. We also never store connection logs, meaning no logs of your IP address, your outgoing VPN IP address, connection timestamp, or session duration.
These policies were confirmed recently when authorities in Turkey seized an ExpressVPN server but were unable to obtain any customer data. We will discuss this case further below in the VPN Logs section.
Considering ExpressVPN's jurisdiction in the British Virgin Islands and their privacy-focused policies, this appears to be an excellent VPN if you are serious about online anonymity and data security.
How much does ExpressVPN cost?
Below are the ExpressVPN prices when you use the discount: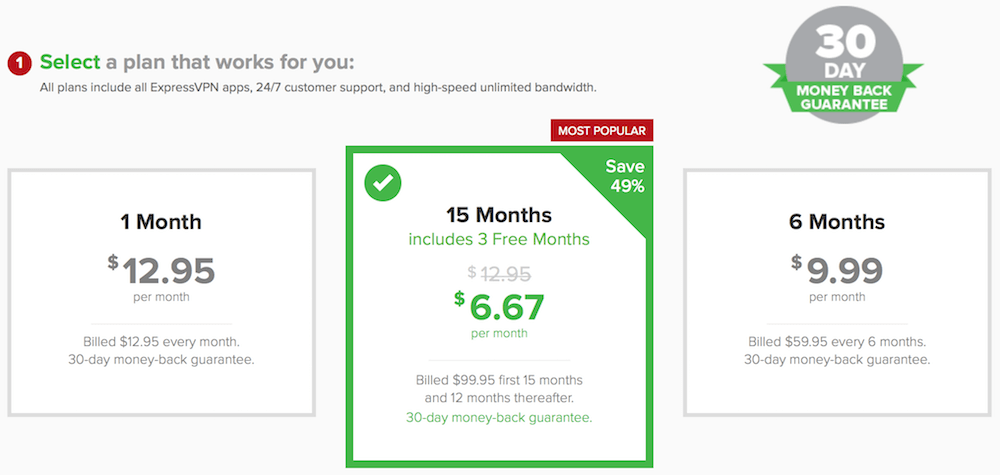 When considering the price of a VPN, the key question is always value – what you get for your money.
While many VPNs promise great performance, ExpressVPN is one of the few that actually delivers on speed and reliability.
Two other areas where ExpressVPN outperforms most other services is with customer service and VPN apps. ExpressVPN offers 24/7 live chat support and a 30 day money-back guarantee (the best in the industry). The second factor is ExpressVPN's apps which are user-friendly and very secure (see leak test results below).
ExpressVPN offers a large selection of apps for different devices and platforms.

For this review, I tested the ExpressVPN apps on Windows, Mac OS, Android and iOS (iPhone).
Overall I found all of their apps to be well-designed and also user-friendly. All of the ExpressVPN apps performed well in testing, without any crashes, bugs, or other problems.
Here is a screenshot of the ExpressVPN Windows client with the server locations screen on the right: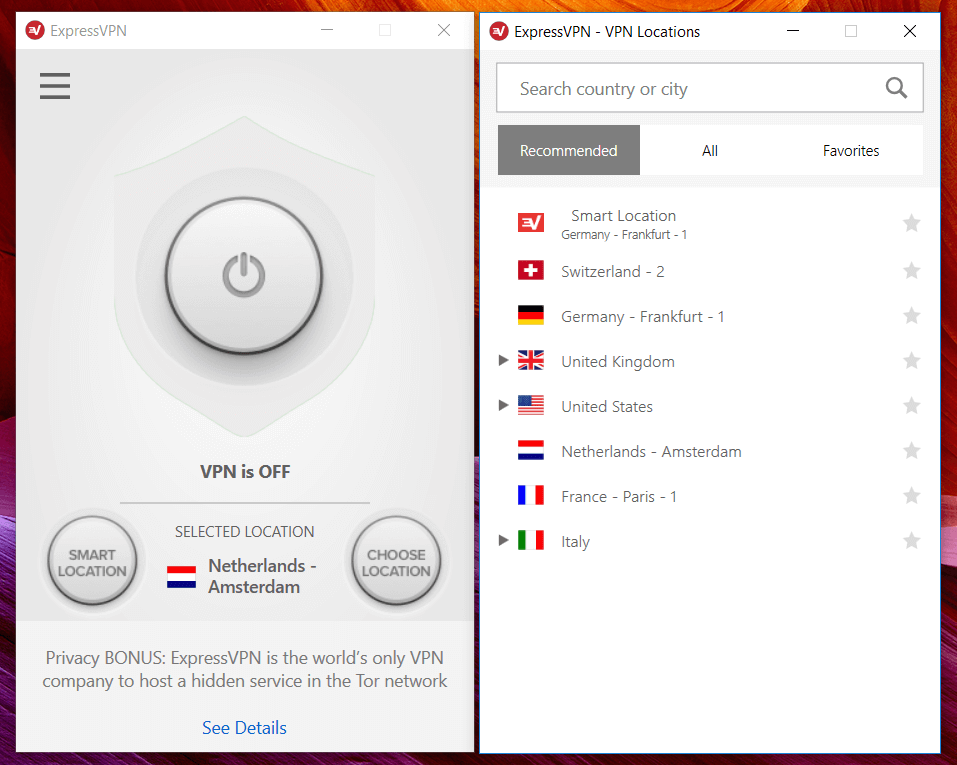 Currently, ExpressVPN offers dedicated VPN apps for:
Windows
Mac OS
Android
iOS
Routers
Linux
3 Simultaneous connections – ExpressVPN limits you to three simultaneous connections at the same time, but you can use the VPN with an unlimited number of devices. Here is the exact clarification from ExpressVPN support:
You can install or configure ExpressVPN on as many devices as you like (i.e., computers, mobile devices, streaming media consoles and wireless routers). With one subscription, you'll be able to connect up to 3 devices on any platform simultaneously.
If you want to use more devices with the VPN, there is a simple solution: use a VPN router. The router will count as only one connection and you'll be able to use it with as many devices as you wish. Check out the VPN router guide for more info.
You can get more information on all the ExpressVPN apps and support for other devices on their website here.
ExpressVPN encryption
For encryption, ExpressVPN uses an AES 256-bit cipher with a 4096-bit RSA key and SHA-512 HMAC authentication. Additionally, ExpressVPN utilizes Perfect Forward Secrecy negotiated through Diffie-Hellman key exchange.
ExpressVPN offers a very high level of encryption that is considered unbreakable by current standards.
Protocols – You can select which VPN protocol to use directly in the ExpressVPN apps. Below you can see the protocols with the ExpressVPN Windows app: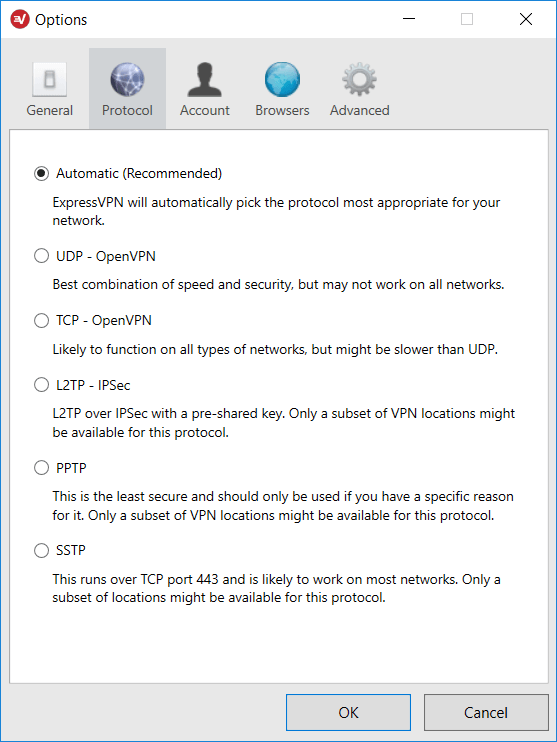 Despite utilizing a very high standard of encryption (perhaps overkill), ExpressVPN still offers excellent speeds, as shown above.
If you want more information on ExpressVPN's encryption implementation, you can find that on their website.
ExpressVPN network lock (kill switch)
ExpressVPN refers to their kill switch as the network lock. The network lock will keep your data secure by blocking all traffic if the VPN connection drops. This ensures you are always protected. The network lock feature is included in the following apps:
Windows
Mac OS
Linux
Routers
Below you can see ExpressVPN's network lock feature under the General settings in the Windows app: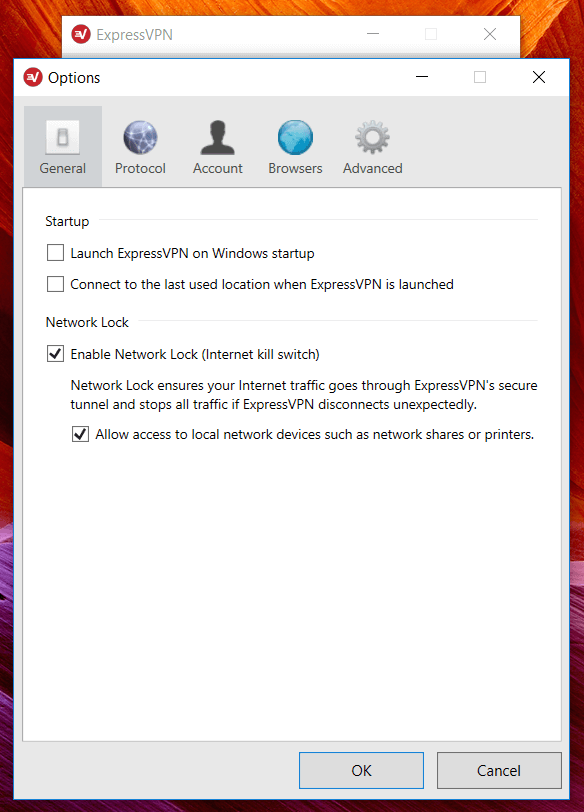 The network lock feature worked well when testing it out with Windows and Mac OS. All traffic was effectively blocked when I simulated various interruptions to with the VPN connection. If there is ever an issue with the connection, you will get a small notification that the connection is down but Network Lock is blocking all traffic to keep your data safe.
The kill switch (Network Lock) is a very important feature to keep your data secure in the event of a dropped connection. With many VPNs (such as PureVPN), the kill switch does not work properly, thereby exposing users to leaks and de-anonymization.
ExpressVPN's apps do very well in protecting user data no matter what happens to the VPN connection.
ExpressVPN split tunneling
ExpressVPN offers a split tunneling feature with their applications for Windows, Mac OS, and routers.
Split tunneling allows you to select which apps will go through the VPN tunnel and which can bypass the VPN to the regular (unencrypted) internet.
This feature can be found in the settings area of the Windows and Mac OS clients. By default, all traffic and applications are routed through the VPN. In the settings, you can select three different options:
All apps use the VPN
Do not allow selected apps to use the VPN
Only allow selected apps to use the VPN
If you click the second or third options, a pop-up window appears, allowing you to select the specific apps.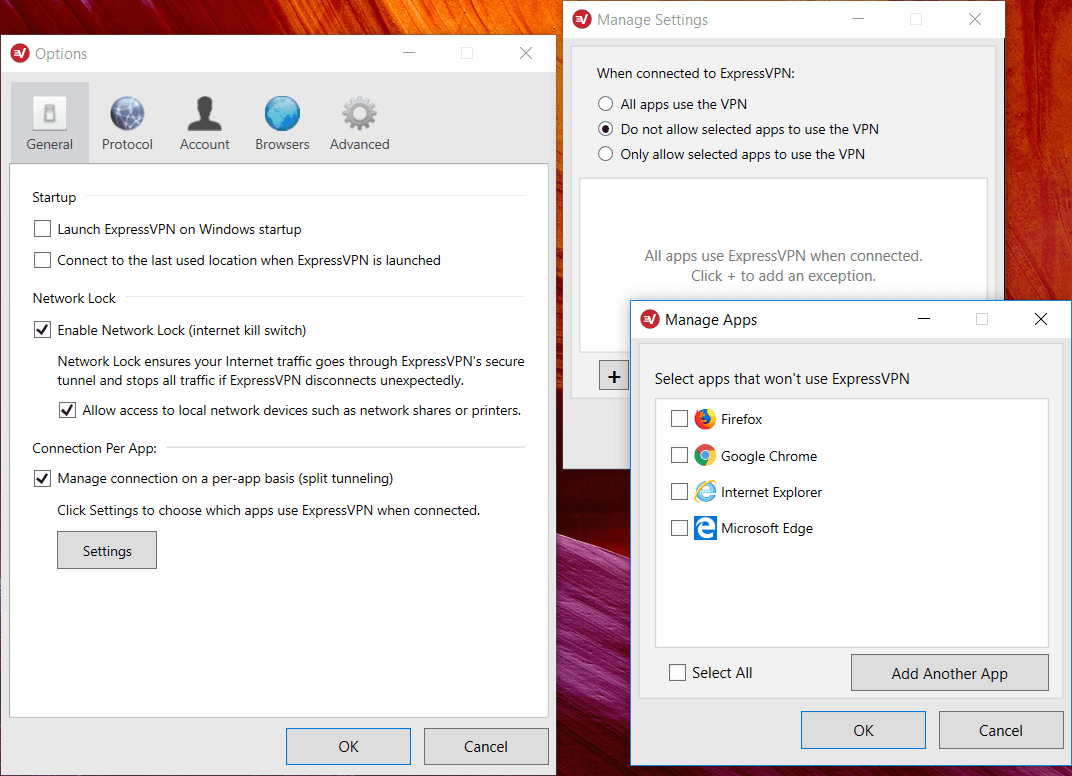 The Mac OS split tunneling feature is basically the same as with Windows above.
Many people want a split tunneling feature for various applications or use cases, such as streaming Netflix or with certain applications.
ExpressVPN is one of the few providers that offer this feature (and it works well).
ExpressVPN privacy and security tests
I ran the ExpressVPN Windows, Mac OS, Android and iOS apps through some basic VPN tests to identify any issues/problems. The main testing site I used was ipleak.net.
Results – ExpressVPN passed all tests. I did not identify any leaks, bugs, or problems with the ExpressVPN apps.
Below are a few of the different testing results.
ExpressVPN Windows
Here is a test with the ExpressVPN Windows client while connected to a server in Sweden.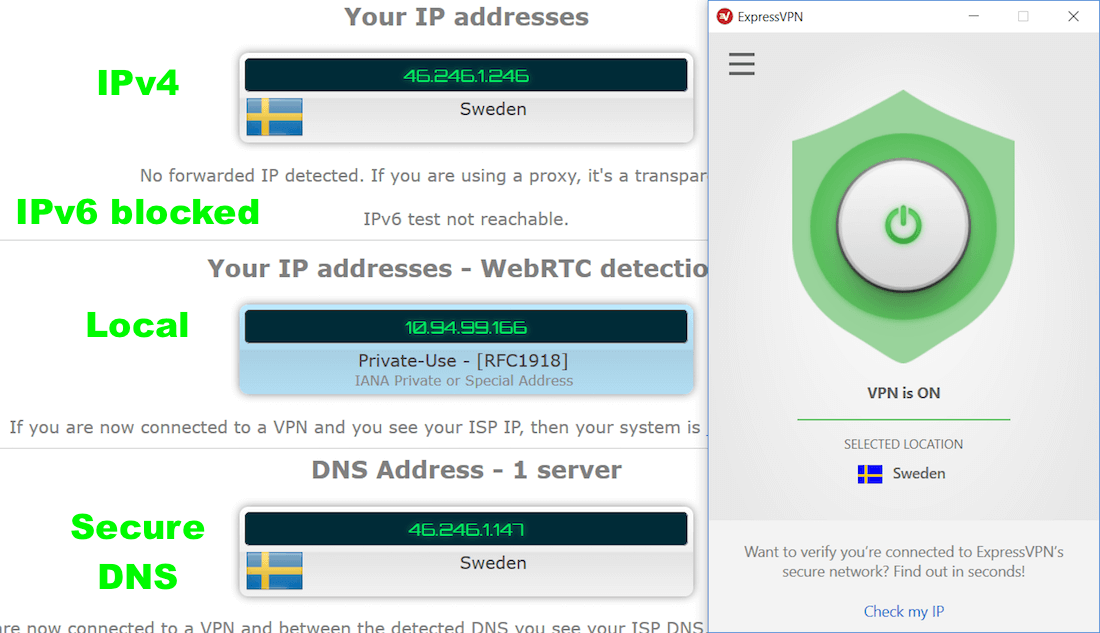 As you can see, ExpressVPN is securing all my traffic by providing me with an IPv4 address, blocking IPv6, and handling all my DNS requests with their secure DNS resolvers. The Windows app passed all tests (no leaks were found).
ExpressVPN Mac
Now moving on to the ExpressVPN Mac OS client, the results were the same: no leaks.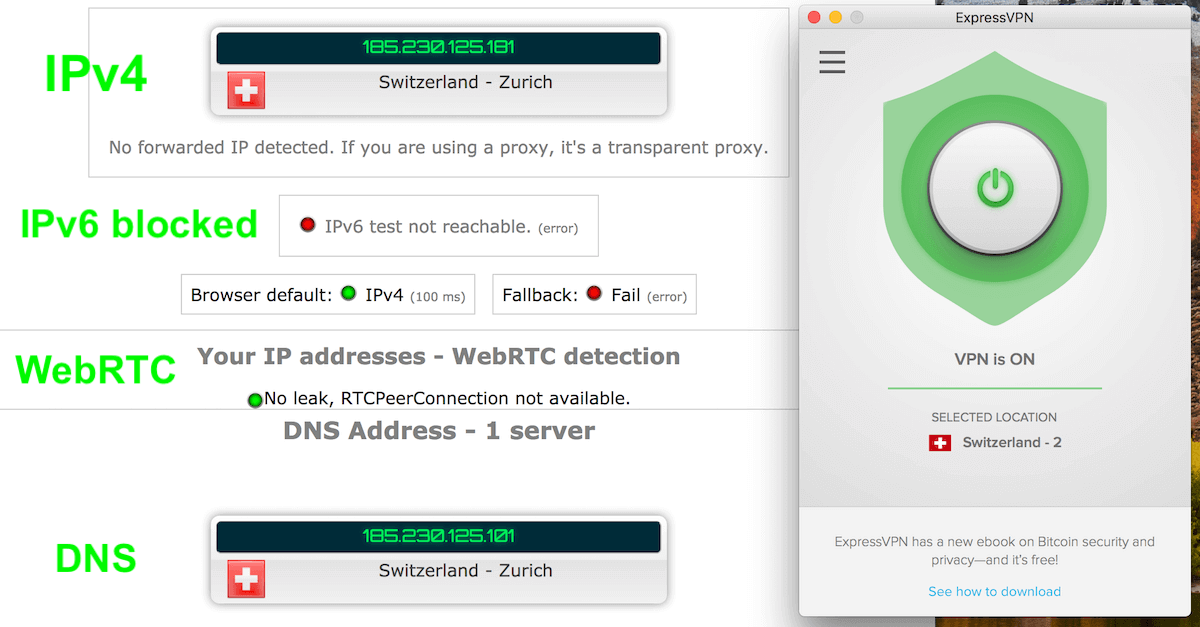 Just like with the Windows app, the ExpressVPN Mac OS client performed well in all tests. Overall it remains one of the top recommendations for privacy and security-focused users.
Many people who use a VPN for Kodi or a VPN for torrenting need a secure service that will keep their data safe. ExpressVPN would be a good choice based on these test results.
ExpressVPN leak testing tools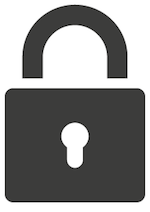 Over the past several months, ExpressVPN has made several major improvements to its applications. While the apps still look the same, they are now hardened and secured to protect users against rare leak scenarios.
Here is a brief overview of these security updates:
Additional WebRTC leak protection – The WebRTC vulnerability pertains to the Firefox, Opera, and Chrome browsers whereby your real IP address can be exposed. While this is technically a browser flaw that many VPNs won't protect you against, ExpressVPN now implements advanced WebRTC leak protection in their apps.
Additional DNS leak protection – ExpressVPN has also recently updated their applications to patch a rare DNS leak that may occur when switching network interfaces with an active VPN connection (such as switching from an ethernet cable to WiFi).
To identify problems with their VPN service, ExpressVPN developed a suite of privacy testing tools. They decided to make the leak testing tools completely free and open source – they can be used to test any VPN for failures (available on GitHub).
While I have always found ExpressVPN to perform well in testing, they have raised the bar with these latest developments to ensure their apps remain as secure as possible.
ExpressVPN logs
As we have already covered, ExpressVPN is a provider that takes privacy and online anonymity very seriously. Here is a brief overview of their logging policies from their website:

They further clarify their core philosophy here:
We have carefully engineered our apps and VPN servers to categorically eliminate sensitive information. As a result, ExpressVPN can never be compelled to provide customer data that do not exist.
This all sounds good, but how do you really know if ExpressVPN is taking these policies seriously? After all, we do know of VPNs that claim to have a "zero log policy" while logging customer data for US authorities – see PureVPN and IPVanish, for examples.
ExpressVPN servers seized: 'no logs' confirmed
In December 2017 news broke that authorities in Turkey seized an ExpressVPN server in an attempt to obtain customer data. This was part of a criminal investigation concerning the death of a Russian ambassador.
The relevant issue here is that the authorities were not able to obtain any customer data – because there were no logs available.
ExpressVPN issued a statement on their website, here is a brief excerpt:
As we stated to Turkish authorities in January 2017, ExpressVPN does not and has never possessed any customer connection logs that would enable us to know which customer was using the specific IPs cited by the investigators. Furthermore, we were unable to see which customers accessed Gmail or Facebook during the time in question, as we do not keep activity logs. We believe that the investigators' seizure and inspection of the VPN server in question confirmed these points.
This case confirms ExpressVPN's logging policies and overall commitment to securing customer data.
You can find more information on the ExpressVPN website (see Privacy Policy) and also in the no logs VPN guide where we discuss this and other logging cases.
ExpressVPN servers
ExpressVPN offers a good selection of servers around the world.
While I previously criticized ExpressVPN for the use of "virtual" server locations, they have since clarified all virtual locations on their website (where the physical location does not match the "virtual" location).
Even though there are some drawbacks to "virtual" server locations, these are generally only used for remote geographic regions, such as Bhutan or Sri Lanka. Virtual locations are also used in countries where having physical servers may present a security risk, such as in Turkey following the server seizure. Finally, ExpressVPN's website explains that less than 3% of their network consists of virtual server locations.
If you want to use IP addresses from remote regions of the world, ExpressVPN would be a good choice thanks to their large network of servers.
You can see all the different locations on the ExpressVPN website.
ExpressVPN support
I tested out ExpressVPN's support repeatedly for this review. In all my interactions I found the support department to be prompt, and helpful.
You can get access to 24/7 live chat support directly through their website in the bottom-right corner. With each chat session I initiated, I was connected to a representative in under a minute.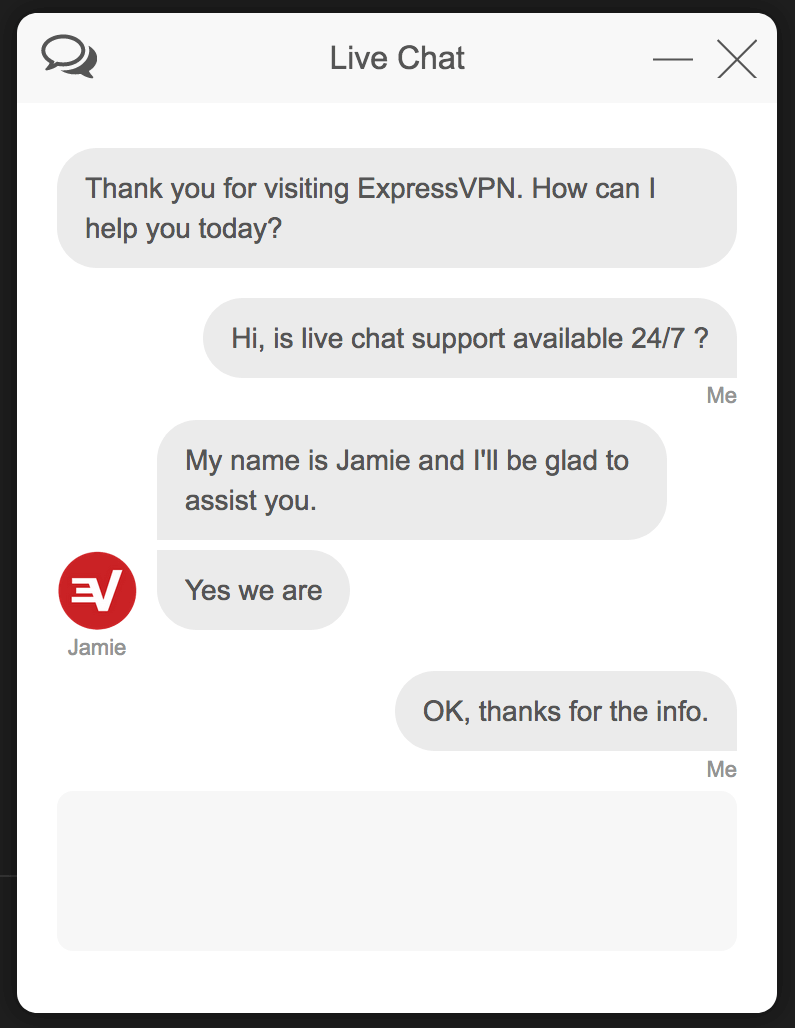 Support with larger VPNs can often be hit or miss.
With ExpressVPN, it seems to very good (as of the time of this review).
ExpressVPN torrenting
There are three factors that make ExpressVPN a solid choice for torrenting:
High-performance (premium) server network with exceptionally fast speeds and great reliability.
Overseas jurisdiction that is not subject to DMCA requests or copyright violation demands.
High-quality applications that will keep your data and anonymity secure while also protecting you against leaks and vulnerabilities (WebRTC).
No bandwidth limitations or traffic restrictions whatsoever.
You can also get more information on the ExpressVPN torrenting page.
Does ExpressVPN work with Netflix?
Yes. ExpressVPN is one of the few VPN providers that continues to work with Netflix, no matter where you're located in the world.
If you get any kind of proxy error with Netflix when you are connected to an ExpressVPN server, just contact ExpressVPN's chat support and they'll tell which server to use instead.
Below I'm streaming US Netflix with an ExpressVPN server located in Washington DC. The quality was perfect and there were no interruptions or buffering problems. Everything worked well: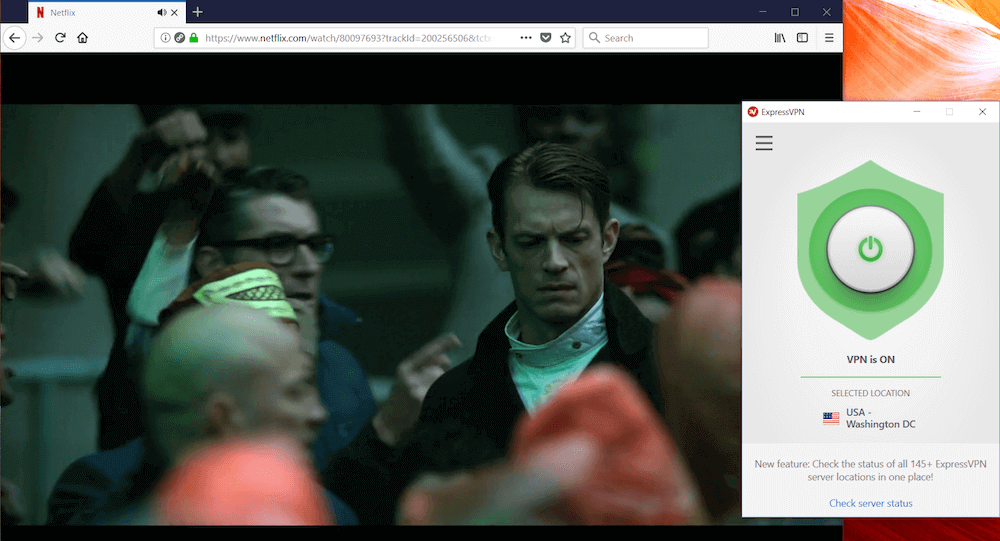 To use Netflix with ExpressVPN, simply start the ExpressVPN app on your device, connect to a server of your choice, and then stream Netflix as normal. Check out the ExpressVPN Netflix guide for more streaming tips, or the Netflix VPN guide for additional options.
ExpressVPN review conclusion
ExpressVPN's performance in this latest review update has earned it a top spot in the best VPN service report.
In an overcrowded VPN market, ExpressVPN continues to stand out from the rest and remains the top recommendation at Restore Privacy. To summarize, here are the main findings from this ExpressVPN review:
Superior performance with excellent speeds and reliability throughout the VPN server network.
High-security applications with maximum encryption (passed all privacy/security tests).
Excellent offshore jurisdiction and company policies to protect customer data and user privacy (which were recently verified with the server seizure in Turkey).
Still works with Netflix and other streaming services.
Huge selection of apps that are well-designed and very user-friendly.
Top-notch customer service with 24/7 live chat support and a 30-day money-back guarantee.
There is very little not to like with ExpressVPN. It is a service that continues to improve and gets better over time.